ROXANNE NIKKI
The Canadian based designer Roxanne Nikki started her fashion career working as an illustrator and pattern maker to later become a junior designer. In 1994, after working as a designer for a few companies, She decided to launch her own brand.
Her collections features a variety of textured fabrics in a futuristic look. She likes to play with bright and bold colors, and her signature is the glam-grunge contemporary style. 
Roxanne lived in Montreal, Paris as well as Vancouver where she now resides and  continues to hone her vision of "Modern Luxury" and "Nonstop Chic" to an ever growing international audience. She is today one of Canada's top talents. Her collections can be found in department stores and specialty boutiques across Canada. For more information visit http://roxannenikki.com
"The fashion statement of today breaks all the rules. It's no longer about following trends but rather self-expression, and the independent style consciousness of a new generation. Function and style savvy override frippery and occasion as I strive to meet my customers' needs for lifestyle dressing, and the power of the personal statement." Roxanne Nikki
Photo credit of Roxanne Nikki and Trend Hunter
Newswear is the perfect blog to discover new designers and cool shops around the globe. Follow us!"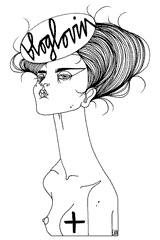 follow me