Mad Hatter and His Boho Boutique
Sao Paulo is not only about high-end boutiques and luxury shopping malls. It is also an excellent place to find creative people and emerging talents. The best neighborhood to find those people is certainly Vila Madalena. Vila Madalena is located in the west side of the city. It is a kind of Williamsburg of New York, but in Sao Paulo. While walking on the streets in Vila Madalena, I found a very cute boutique. The outside of the store looks like a vintage store, but the inside is full of hats. The most interesting thing is the hats are not like every other hat. Vintage inspired, they come in colorful and fun prints with a Brazilian touch. Most of them mix different types of prints very characteristic from Brazil, like Rio de Janeiro sidewalk's pattern. It's funny to find such a thing because Brazilians do not wear hats very often. You might see some people wearing them on the beach, but it is not very common to see hats all the time in the city, even during sunny days.  But this practice is changing with the numerous global influences in the country brought by young immigrants from the north hemisphere. 
E-Holic (the name of the store) was developed by the designer Durval Sampaio, who was born in Sao Paulo, and raised in a small town called Maripora. The designer decided to start making hats after developing a special hat just to go to a party. He said he had problem to find hats because his had was too big, so he decided to make his own one. His hat became a success among his friends, and later he saw himself making hats to sell. He thus found his passion for sewing, and decided to quit his job. Few years later, Durval consolidated his name in the indie fashion scene in São Paulo, and opened his first store. His philosophy "do what you love" became the slogan of his brand to inspire other people to do what he did.
If you are planning to come to Sao Paulo or you are in Sao Paulo, I strongly recommend you to visit Vila Madalena and check out his store. I will after give some other tips about this amazing neighborhood for art, culture,  and indie fashion.
E-Holic: Rua Fradique Coutinho, 1399, 05416-011 São Paulo, Brazil
Phone: +55.11.3852.0420 - http://www.e-holic.com.br
Newswear is the perfect blog to discover new designers and cool shops around the globe. Follow us!"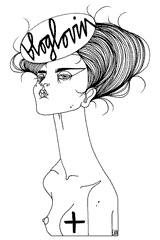 follow me